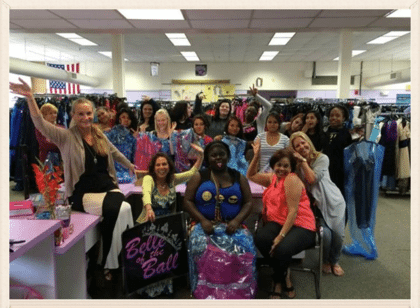 Belle of the Ball was proud to share that they have served a RECORD NUMBER of girls (116) on their first
shopping day September 23. It was NON STOP, start to finish. All of their volunteers did a wonderful job.
Belle of the Ball will also be forming a partnership with Project Prom in Polk. Giving them about 100 dresses  this Saturday to serve the girls in Polk County this homecoming season
They are continuing our partnership with:
Gathering of Women "Princess Prom Project"
Tim Tebow Foundation "Night to Shine" (February 2018). Tampa and Trinity churches will be picking up soon, and they have reached out to Largo and Plant City.
The partnership with Sun Country Cleaners, allows Belle of the Ball to get more dresses than they can use and now can assist many other organizations! Here is an example of what it meant to Night to Shine participants in Tampa…
From Sarahi at Christian Family  Church (Tampa):
Here is a recap of the event so you can see what a blessing those dresses were to many!
Sun Country Cleaners is proud to be able to support this amazing organization and we could not be more overjoyed by the support of all our customers to the communities we serve!